If the outdoor seating collections at the local big box home improvement store gave you sticker shock, check out the outdoor soft seating Worthington Direct offers. Check out comfortable soft seating furniture for outdoors to create your open-air living space at home. Or, outfit an employee break area on a patio, or turn a school garden into an outdoor classroom.
Outdoor Sunbrella Soft Seating by Smith System
Flowform Outdoor Sunbrella Soft Seating by Smith System combines outdoor benches with the durability of children's furniture. You already know Sunbrella Elements fabric is a favorite of manufacturers in the field of outdoor furnishings. They are stain-resistant, handle the weather with ease, and will not fade in the full sun. When cleanup is needed, soap and water do the trick. The large bean benches have a 12-year warranty and come in four attractive colors. Add a few colorful soft-seating round ottomans for variety and to double as tables.
The Fava Outdoor Lounge Chair by Mooreco is a Budget-Friendly Choice
The Fava Outdoor Lounge Chair by Mooreco is a budget-friendly choice. If you are not big on curves, go with the smooth lines of the Fava. It is soft, features the Sunbrella canvas, has a machine-washable bean bag outer layer. To prevent small hands from creating trouble, the zipper is childproof. If you like to add splashes of color to your outdoors, buy four in the different tones.
Alternatively, add a few square bean bag ottomans in different colors. In fact, some shoppers have fallen in love with these soft squares and selected them for all their outdoor soft seating needs. If a square is not precisely what you had in mind, give the rectangles or circles a look.
Session Swerve & Dash Plastic Bench Seating by Tenjam for Those High-Traffic Areas
Check out Session Swerve & Dash Plastic Bench Seating by Tenjam for those high-traffic areas. With a 1,000-pound weight capacity, these chic soft-seating benches look deceptively dainty. Raised at the bottom to prevent moisture trapping, they are excellent for a space that you hose down at night. If you do not want the furniture to be moved once you set it up, invest in the optional fill caps. The benches themselves have a 10-year warranty.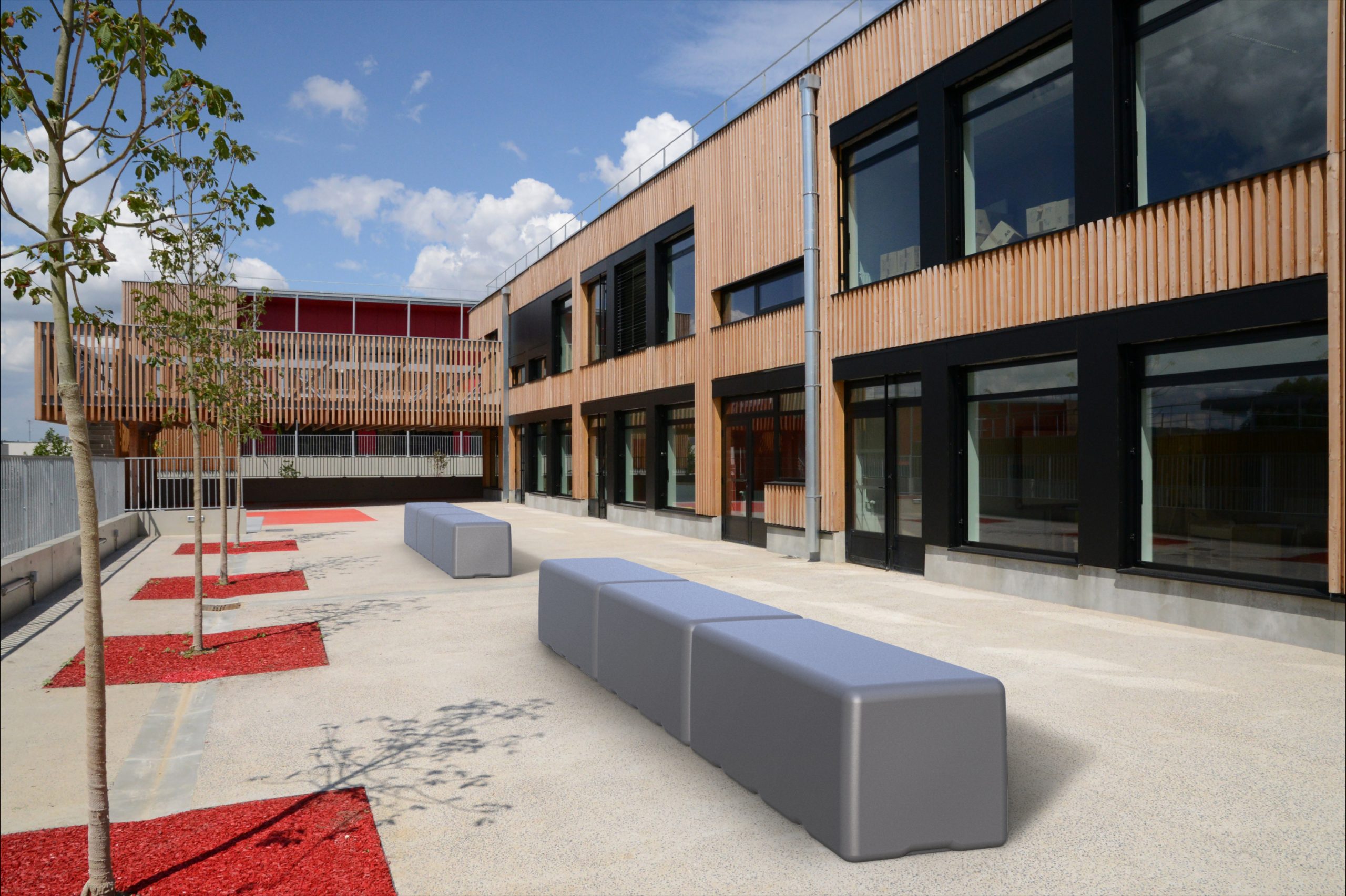 At Worthington Direct, our team knows selecting the right outdoor soft seating furniture is not something you do every day. This is why we're here to help. Contact us today to discuss your outdoor seating and all school furniture choices!